We are out of 4.3-octave marimbas but we have more on the way.  Sign up on our waiting list and we'll let you know as soon as we have one available for you.  
Rent a 4.3 Octave Marimba
We offer the lowest prices and most convenient service for 4.3 octave practice marimba rentals in the Dallas/Fort Worth area. We'll deliver it to your home, set it up and pick it up when finished, at no charge.  Get started today with our simple online activation and you'll be done in just one minute!
4.3 Octave Marimba Rental – $59/month + tax
No Contract, Cancel Anytime and we'll pick it up
You own it after after 48 consecutive payments

Free Next-Day Home Delivery, Setup and Pickup

No Setup Fee, No Insurance Fee, No Contract
Hassle-free Automatic Monthly Billing
30-day Money-Back Guarantee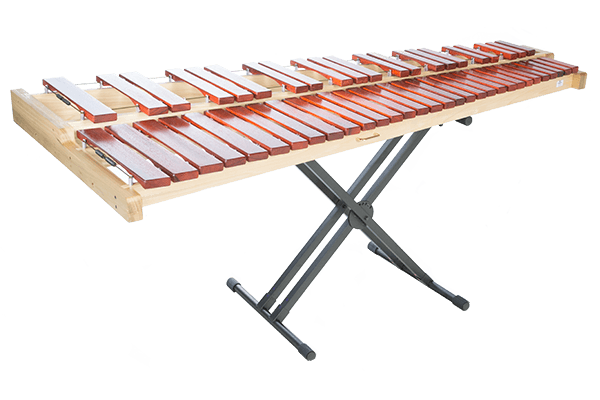 I know, some of you need all the details before jumping in.  Well, here they are!
– As soon as you sign up we'll contact you to schedule delivery, usually for the next business day.
– After 48 consecutive payments you own the marimba and the payments automatically stop.  We'll even make an offer to buy it back when you are done with it.
– These are large, 4.3 octave practice marimbas, roughly 80″ long.  Please make sure you have a 7×3 foot area for the marimba.
– There is no contact or rental timeframe required.  When you are finished with the marimba just contact us and we'll deactivate the billing then schedule a time to pick it up.  
– If you need to update your billing information, you can do it from the MyAccount section.  No need to contact us.
– If this marimba doesn't work for you then let us know in the first 30 days. We will schedule a pick up and refund your money.
– You rental includes the stand but not mallets, bags, books, etc..  We suggest you purchase those from the supplier your percussion teacher recommends.
– We don't charge for LDW, insurance or any other hidden costs.  We expect some normal wear-and-tear but please take care of the marimba so other students can enjoy it in the future.
Still have questions?  Contact us and we'll answer them asap!